Shopping Cart
Your Cart is Empty
Thank you for your business!
You should be receiving an order confirmation from Paypal shortly.
Exit Shopping Cart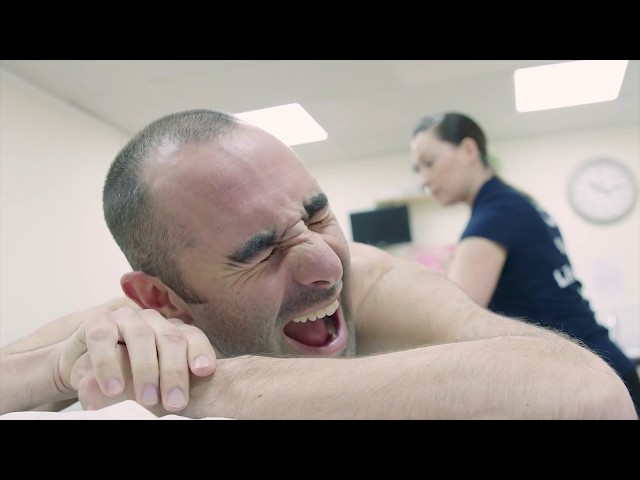 Physiotherapy Support Team for World Record Attempt...watch our video with Leigh Timmis
Ruth Machej MCSP HCPC APPI
Special Offers, Discounts, Freebies, & Clinic News & Updates

Ruth Machej - Physiotherapist for World Record Attempt:

Leigh Timmis: The Fastest Cycle Across Europe
Follow Leigh on https://leightimmis.com
Physiotherapy…Maintaining and Fixing Leigh

See our session with Leigh! Click the YouTube link below
The body is a machine and without regular TLC and maintenance, the working parts will start to fatigue and break down.
Regular Physiotherapy and Sports Massage input forms the platform for effective training and results in every athlete, from a club level athlete to a top level competitor. As an experienced therapist and an ex-athlete I understand the body and what it takes to train hard, be fit, and be at your best. As Physiotherapists and Athletes we see this fine line between being in top form, to over-stepping that line and being injured or unwell.
The intensity and level of Leigh's training is such that his body will need extra help to recover from this workload.
Assessing Leigh:
When I first met Leigh, as I would with any Physiotherapy initial assessment, it was important to understand Leigh's training schedule, rest periods and sleep patterns, daily workload, his aims, and his current problems. Within this I also consider medical and injury history. I carried out a full physical assessment generally comprising of:
- Posture and symmetry
- Joint range of movement and strength
- Assessment of the spine and neurodynamics
- Pelvic and core stability
- Functional strength and control
- Palpation of muscle tone
- Special tests for areas of injury and differentiation of the exact problems
Over the following sessions I got to know Leigh and how he was responding to treatment. I monitored the treatment response and findings allowing me to form solid picture of what was happening and formulate a treatment plan and functional rehabilitation program for Leigh to follow.
Main Findings:
- Proximal left hamstring insertion inflammation
- Shorter left leg -1cm
- Restrictions of left lumbar musculature and Sacroiliac Joint function
- Active trigger point left gluteus medius and quadratus lumborum
- Generally tight hamstrings and soleus bilaterally
- Reduced functional control and strength in gluteals left > right
To ensure Leigh sets off in the best possible form, over the coming weeks I will work on these problems through a combined approach of recovery massage, manual therapy and mobilisations, acupuncture, rehabilitation and control exercises, alongside meeting up with the Performance Team to discuss the training schedule and incorporate Physiotherapy goals and rehabilitation to formulate a bespoke training program to maximise athletic performance and reduce the risk of injury and fatigue.
For more information about Ruth Machej MCSP HCPC and Belper Life-Fitness & Performance Physiotherapy visit www.belperlifefitnessphysio.co.uk and www.belperpilates.co.uk
Our Blog

Special Offers, Discounts, Freebies, & Clinic News & Updates
An ongoing series of informational entries
DISCOUNTS & OFFERS - Inclusive of 24th July - 1st September 2017
Courses of Physiotherapy, Sports Massage, Remedial Massage, Therapeutic Massage, Pregnancy Massage:
20% off a course of 3 sessions 9am-5pm
10% off a course of 3 sessions 5pm-9pm
Book 6 sessions and get one free!!
Pamper hour: Neck & Shoulders aromatherapy and Reflexology 20% off sessions 9am-5pm.
20% off a course of 3 sessions
15% off a course of 2 sessions
10% off a single session
Full body aromatherapy massage 20% off sessions 9am-5pm.
20% off a course of 3 sessions
15% off a course of 2 sessions
10% off a single session
* All pre-paid treatments must be taken by 30th September 2017
OPEN DAY Sunday 1st October 10am-4pm

Pilates & Holistic Health
BELPER LIFE-FITNESS HOLISTIC HEALTH & PILATES OPEN DAY
We are pleased to invite you to our Pilates and Holistic Health Open Day on Sunday 1st October for a day of relaxation and pampering! We are well known as a clinic that provides Physiotherapy, Sports Massage, and Pilates, but we understand that physical health is multidimensional and therefore we invite you to the launch of our Holistic Health Therapies, where mind, body, and soul re-balancing is the focus of the day.
We also invite you to try our variety of Pilates sessions including the amazing Pilates Reformer and Ladder Barrel, both of which we added to our program in April this year.
Time: 10-4. Doors open at 10am
Venue: Belper Life-Fitness Physio, Pilates, & Holistic Health Clinic
Fit Pit Gym
East Mill
Bridge Foot
Belper
DE56 2UA
Cost: £5 per Ticket entry. To purchase tickets please contact 07703 116284 (voicemail or text) or email [email protected] Tickets include access to Main Reception stalls and Pilates Classes, Pilates Reformer/Ladder barrel tasters (subject to availability). Tickets also provide accessibility to book for our mini holistic therapy taster treatments at £5 each (subject to availability). For Pilates class attendance please a bring mat if you have one and a towel, there are mats available but numbers are limited. Classes and treatments need to be booked in advance to ensure the classes are not too full and slots are available. Taster session timings include consultation and changing time. Please attend in advance for classes and taster treatments to complete a health screening form.
Running of the day:
On arrival check in with your ticket the reception desk within the Fit Pit Gym. On arrival you will be asked to fill in a health form (you cannot attend any class or session without completing this). Wait in the reception area for the classes and to be called for your treatment sessions. We will be serving hot and cold drinks through the day.
Pilates Classes:
Beginners Mat Work 10.15 & 1.15
Small Equipment 11.15 & 2.15
Stretch & Relax 12.15 & 3.15
Taster Sessions:
- Hot Stone Massage
- Therapeutic Massage
- Reiki Healing
- Reflexology
- Thai Head Massage
- Pilates Reformer
Offers on the Day:
We are offering 20% off courses of 3 treatments booked and paid for on the day.
Also you can purchase treatment vouchers on the day for friends and relatives at 20% off (valid for 6 months).
Huge Savings on Christmas Vouchers and Treatments up until June 2018...Offer open until 18th December!!!
Be Christmas Ready…

A HUGE 20% OFF all normal treatment prices and Pamper Packages!!​
10% OFF A SINGLE SESSION OR 20% OFF A COURSE 3 SESSIONS:
o PHYSIOTHERAPY
o SPORTS MASSAGE
o HOT STONE MASSAGE
o REFLEXOLOGY
o THAI HEAD MASSAGE
o REIKI HEALING
o REFORMER PILATES
o PREGNANCY MASSAGE
PAMPER PACKAGES:
1. BACK, NECK, AND SHOULDER MASSAGE WITH THAI HEAD MASSAGE 45 OR 60 MINUTES.
2. FULL BODY MASSAGE WITH THAI HEAD MASSAGE 75 MINUTES
3. ULTIMATE RELAXATION HOT STONE MASSAGE 75 MINUTES
4. BACK, NECK, AND SHOULDER MASSAGE WITH REFLEXOLOGY 45 OR 60 MINUTES
5. DEEP TISSUE MASSAGE WITH ESSENTIAL OILS FOR IMMUNE BOOSTING, RELAXATION, OR DE-STRESS
/